Republican Gov. Ron DeSantis of Florida's seen his image as a fighter expand and his standing soar among conservatives across the country, thanks to his aggressive culture wars battles the past couple of years as he has targeted the media, corporations and teachers' unions, and his full-throttled pushback against coronavirus pandemic restrictions
However, over the past six months, and especially in recent weeks, there has been a mostly one-sided fist fight brewing between DeSantis and former President Trump as the 2024 GOP presidential nomination race heats up
DeSantis remains on the 2024 sidelines, but is widely expected to enter the race, and in interview that that ran Thursday on Fox Nation, the Florida governor said "stay tuned" when asked about his political future. Trump, who launched his third White House campaign in November, views DeSantis as his chief rival and has repeatedly and increasingly blasted the Florida governor in recent months.
Until this past week, DeSantis had mostly deflected or ignored Trump's barrages as he equally brushed off repeated questions about a Republican White House run. However, with the former president's legal troubles mounting amid looming indictments — which would make an already rocky 2024 race even more turbulent — and with Trump's attacks on the Florida governor accelerating, DeSantis clapped back.
TRUMP BROADENS LEAD OVER DESANTIS IN LATEST 2024 GOP NOMINATION POLL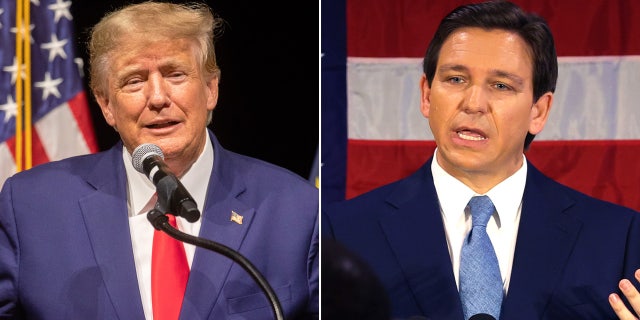 File photos of former President Trump, left, and Florida Gov. Ron DeSantis. (Scott Eisen, Spencer Platt)
Sources in DeSantis' wider political orbit say the Florida governor is "living in Trump's head" while he successfully contrasts himself with the former president over their different pandemic responses, governing style, and electability.
However, a source in Trump's political orbit took aim at DeSantis, telling Fox News that "if this is him getting into the mud with Trump, he is going to get rolled so hard and so quickly."
The noticeable shift in approach from DeSantis comes as the extraordinary legal troubles surrounding Trump have intensified in recent days, with the possibility of an indictment hanging over the former president.
TRUMP HAULS IN $1.5 MILLION SINCE WARNING OF LOOMING INDICTMENT
After Trump repeatedly criticized DeSantis for keeping quiet following the former president's warning last weekend that he may face imminent indictment and potential arrest in connection with looming criminal charges from a district attorney in New York City, the governor spoke out on Monday.
DeSantis ripped Manhattan District Attorney Alvin Bragg over the likely indictment and claimed that the Manhattan DA was "pursuing a political agenda and weaponizing the office."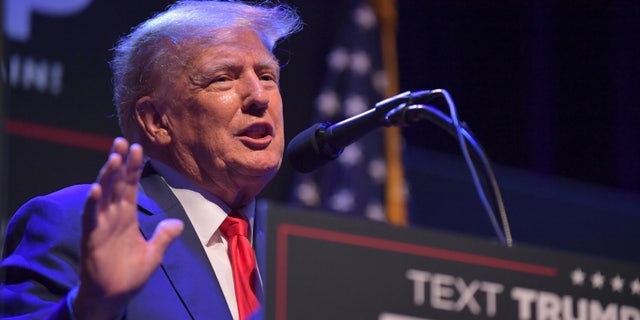 Former President Trump speaks at a campaign event Monday, March 13, 2023, in Davenport, Iowa. (AP Photo/Ron Johnson)
Trump faces an indictment over his alleged involvement in hush money payments to adult film star Stormy Daniels in 2016, to keep her quiet ahead of that year's election over her claims she had sexual encounters years earlier with Trump. The former president denies the affair and any wrongdoing in connection with the payments to Daniels.
DeSantis also labeled Bragg a "Soros DA" — a reference to billionaire Democratic donor George Soros, who is a regular target of conservatives. Additionally, he charged that Bragg is part of a group of prosecutors who are a "menace to society."
DeSantis — in an apparent jab at Trump's moral code — added that "I don't know what goes into paying hush money to a porn star to secure silence over some type of alleged affair. I can't speak to that."
The governor also emphasized that "I've got real issues I've got to deal with here in the state of Florida."
WHO'S IN AND WHO'S ON THE SIDELINES — YOUR GUIDE TO THE 2024 GOP PRESIDENTIAL NOMINATION RACE
The comments apparently infuriated the former president, who responded with a spate of fresh attacks on the Florida governor, once again slamming his former ally for being ungrateful, disloyal and an "average governor." The former president's surrogates were even less kind.
However, DeSantis stood by his comments in an interview with British media host Piers Morgan. Clips and quotes from the interview, which ran in its entirety Thursday on Fox Nation, made headlines all week.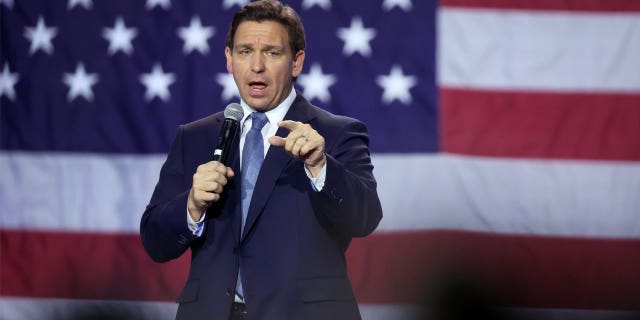 Florida Gov. Ron DeSantis speaks to Iowa voters on March 10, 2023 in Des Moines, Iowa. (Scott Olson/Getty Images)
He spotlighted his overwhelming 19-point re-election victory last year — in contrast to Trump's defeat in the 2020 presidential election — and highlighted his "no nonsense" governing style in comparison to the tumult that characterized the Trump White House years. DeSantis criticized the former president for not firing federal health official Dr. Anthony Fauci, and mocked the derogatory nicknames Trump has repeatedly called the governor.
An adviser in the former president's political world, who asked for anonymity to speak more freely, charged that "the attacks that Ron has levied are weak at best."
Pointing to DeSantis' 2022 Democratic gubernatorial challenger, the adviser added "we're not Charlie Crist and this is not going to be like patty-cake."
"We wake up every morning thinking of how we can punch Ron DeSantis in the face," the adviser said.
PRO-DESANTIS SUPER PAC HIRES TOP GOP STRATEGIST WHO ADVISES CRUZ, YOUNGKIN
Another source close to the former president told Fox News that "Trump understands that if he can slow down some of Ron's money, and takes shots at this guy, maybe Ron second guesses the whole thing."
Sources in DeSantis' wider orbit have said any presidential campaign launch would come in the late spring or early summer, after the end of the current legislative session. However, the governor's latest travel itinerary to the early voting states of Iowa and Nevada and a trip next month to New Hampshire are sparking more 2024 speculation.
In speeches this year, the governor's pitched his policy victories in Florida as a roadmap for the entire nation. Additionally, he has been traveling across the country, highlighting his "Florida blueprint" and promoting his newly released memoir, "The Courage to Be Free."
However, his poll numbers in the early 2024 GOP presidential nomination race have slipped in recent weeks, as Trump's made gains.
Trump, in a statement on Wednesday, argued that DeSantis is "beginning to fight back" because "his Polls have crashed so he has no other choice."
"Ron DeSanctimonious is the most overrated politician in America," Trump claimed in a separate post on Thursday. "His Numbers on COVID, Crime, and Education are terrible, but nobody knows it—Now they do. He shouldn't even be running!"
Former Trump spokesman Taylor Budowich, who steers the pro-Trump super PAC MAGA Inc., charged that "the polls that showed him [DeSantis] maybe being viable alternative have eroded, and now President Trump maintains an insurmountable lead with national attention back in his corner.... if Ron wanted a shot at 2024, this was it, but he has already flamed out faster than Jeb Bush."
Longtime Republican strategist and communicator Ryan Williams says the new more aggressive responses by DeSantis were bound to happen.
"DeSantis essentially got forced into it because President Trump and his team are already attacking Ron DeSantis because they realize he's currently the biggest threat to his candidacy. That's always been Donald Trump's M.O. — just grind your opponent into dust and do it early on. He did it every candidate in 2016 and he's employing the same strategy now," Williams said.
CLICK HERE TO GET THE FOX NEWS APP
However, Williams, a veteran of multiple GOP presidential campaigns, noted that Desantis, "drew a contrast on an issue that resonates with the base — the president's handling of the pandemic and keeping Dr. Fauci in his role. Dr. Fauci is very unpopular with Republican base voters and it's an area that the DeSantis team thinks they can draw a contrast between the way the president handled the pandemic while he was office and the way that Gov. DeSantis handled it in Florida."
"If you're going to win the Republican nomination, you're going to have to take it from Donald Trump," Williams said. "He's not going to give it to you and he's going to try to attack you at every turn. So you have to figure out what the best way is hit back on him, defend your own record, and not alienate the base. It's a difficult dance and DeSantis is going to have to make adjustments as he goes along."
Paul Steinhauser is a politics reporter based in New Hampshire.