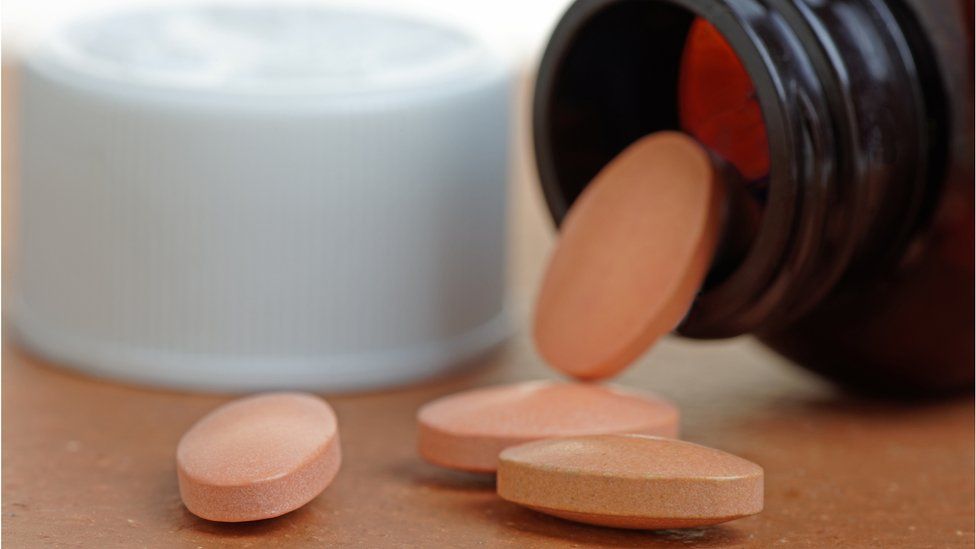 By Michelle Roberts
Digital health editor
About 15 million more people in England could be prescribed daily cholesterol-lowering statin pills to cut their risk of heart attacks and stroke, new advice for the NHS says.
Given the very cheap price of the tablets and the possible health gains, they should be considered more often, the draft guidance says.
There can be side effects though.
There is debate about how widely this long-term treatment should be given and what associated risks are acceptable.
When are statins worth taking and what are the risks?
Cardiovascular disease is the leading cause of death and disability in the UK, killing about 160,000 people each year, and high cholesterol a significant risk factor for it.
In England, high cholesterol leads to over 7% of all deaths and affects up to 60% of adults, NICE says.
Cholesterol is a fatty substance found in the blood. High levels of "bad" cholesterol can narrow blood vessels and increase the risk of clots.
Millions in the UK already take statins, one of the most commonly prescribed drugs.
The previous advice was for anyone with a one in 10 chance of having a cardiovascular event, such as a heart attack or stroke, within the next 10 years - based on factors such as age, blood pressure and cholesterol levels - to be offered a statin.
But NICE now says including adults with a one in 20 chance could save 2% of them from having a heart attack or stroke during that period.
'Personal choice'
The most worrying side effect is a rare condition called myopathy, where muscle is damaged.
But NICE says most of those on statins experience no muscle pains.
Spokesman Paul Chrisp said patients should discuss the benefits and risks with their doctor, adding: "The evidence is clear, in our view, that for people with a risk of 10% or less over 10 years, statins are an appropriate choice."
British Heart Foundation medical director Prof Sir Nilesh Samani said taking this type of long-term medication was a matter of personal choice.
"The decision should be based on a conversation with your GP and should be combined with other measures such as eating a healthy diet and exercising regularly to get the most benefit," he added.
If the draft guidelines are approved, Wales could follow the same advice.
A Welsh Government spokesperson said: "Cardiovascular disease is the biggest killer in the UK. Health boards should follow NICE guidelines for prescription of statins to help people reduce their risk of heart attacks and strokes."
Related Internet Links
The BBC is not responsible for the content of external sites.