Sen. Ted Cruz, R-Texas, is celebrating "a victory for free speech" after a Stanford University dean, who publicly told a Trump-appointed judge in front of a group of students that he had "done harm," was placed on leave by the school.
In March, Judge Kyle Duncan was invited to Stanford University to speak to a group of law students, but he [was met with heckling and interruption from the young adults. Rather than control the situation, Tirien Steinbach, the Stanford University Law School associate dean of Diversity, Equity and Inclusion, ridiculed Duncan's work on the U.S Court of Appeals in front of the class.
Following the incident, Cruz sent a letter to the high profile university, demanding the students be punished and Steinbach be held accountable for her treatment of the judge.
"This disgraceful behavior is antithetical to the principles of free speech and open discourse that are essential to the mission of any credible academic institution, let alone a top-tier law school," Cruz wrote in a March 14 press release.
TED CRUZ ASKS STANFORD TO PUNISH STUDENTS WHO HECKLED TRUMP-APPOINTED JUDGE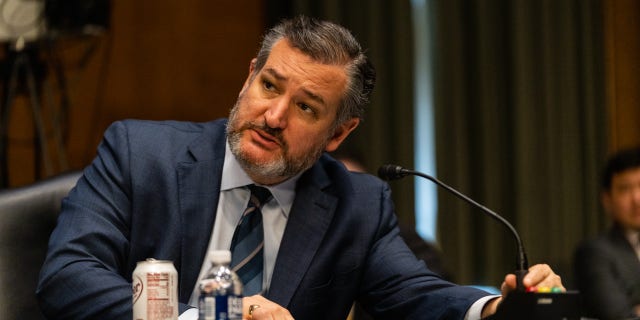 Senator Ted Cruz called out Stanford University after the protests. (Eric Lee)
Just weeks after the Texas Senator called on school officials to take action against the "disgraceful behavior," Cruz received a response that included news of Steinbach's leave and that all law students would be required to attend a session on free speech.
STANFORD DEI DEAN ON LEAVE AFTER INTERRUPTING AND CONTRONTING FEDERAL JUDGE DURING CAMPUS EVENT
"This is a victory for sanity in this country and a step in the right direction, and frankly every law school should take note. While woke culture reigns supreme on college campuses today, we just witnessed a law school like Stanford stand up to it and place their 'high priestess of diversity' on leave," Cruz said. "Stanford should be commended for holding its deans to a higher standard. As for the students – let me just say, this ought to be the first and only time you get to scream and curse at a federal judge because in a court of law you'd find yourself in jail."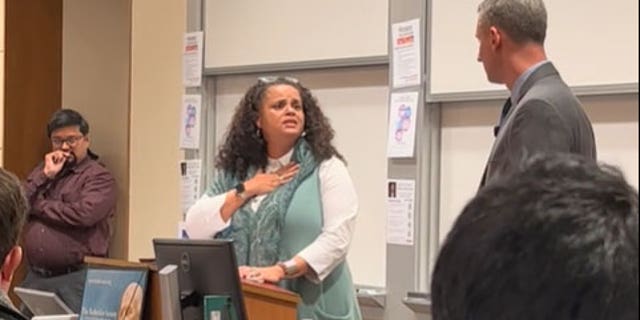 Tirien Steinbach, the Stanford University Law School associate dean of Diversity, Equity and Inclusion, slams U.S. Circuit Court Judge Kyle Duncan during his presentation at the school as an invited guest on March 9, 2023. (Screenshot/ Vimeo - Ethics and Public Policy Center)
"Associate Dean Tirien Steinbach is currently on leave. Generally speaking, the university does not comment publicly on pending personnel matters, and so I will not do so at this time," Jenny S. Martinez, the dean of Stanford Law School, wrote in a Wednesday memo to the school community.
CLICK HERE TO GET THE FOX NEWS APP
"Stanford's event disruption policy gives attendees a right to hold signs and to demonstrate disagreement in other ways as long as the methods used do not 'prevent or disrupt the effective carrying out of a University function or approved activity, such as lectures, meetings, interviews, ceremonies . . . and public events.'"
Fox News Digital's Emma Colton and Joe Silverstein contributed to this report.
Aubrie Spady is a Freelance Production Assistant for Fox News Digital.