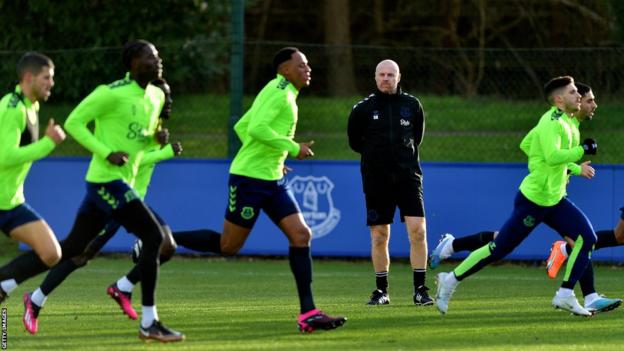 Everton ushered in 2023 with more flesh on the bones of their much-touted strategic review, which they boasted included a "120-point action plan for our footballing operations strategy".
In reality, the action plan involved pretty much the same points that resulted in the review being commissioned in the first place - namely sack a manager then draft in his replacement with little or no time to bring any new faces into an Everton team facing a relegation scrap.
The time can be changed from January 2022 to January 2023, the names can be juggled from Rafael Benitez to Frank Lampard to Sean Dyche, but the song remains the same as Everton lurch through more chaos and dysfunction into deep crisis.
And for all the 120 points contained in the action plan, which Everton chief executive Denise Barrett-Baxendale claimed would enhance the club's approach in all areas including recruitment, they were the only club in the Premier League unable to recruit a player in the January transfer window.
If there was an action plan, it does not appear to have included strengthening a squad not fit for purpose.
It was widely regarded as one the most crucial transfer windows in Everton's recent history, given they lie 19th in the Premier League with just 15 points and three wins this season.
But they did not deliver any fresh faces despite owner Farhad Moshiri's public promise that the need for a striker would be addressed.
Moshiri also insisted Everton would end the window stronger than when it opened. He can hardly justify those words when the only serious transfer business was the £45m sale of England under-21 international Anthony Gordon to Newcastle United, with none of the money being reinvested in the team.
And this is even before Lampard was sacked as manager, 23 days into the window, to add to this complicated Everton equation.
In a footballing context alone, it represented a catastrophic failure on behalf of owner Moshiri, chairman Bill Kenwright, Barrett-Baxendale and director of football Kevin Thelwell.
Everton were reduced to scattergun inquiries and failed offers in various guises in the closing hours of the window while those struggling alongside them such as Bournemouth and Southampton were paying big money to strengthen.
Once it became clear Everton were struggling to sign even one player on Tuesday evening, a group of fans headed down to their Finch Farm training headquarters with banners demanding the board's removal - and more protests are planned for new manager Dyche's first game at home to Arsenal.
None of this is aimed at Dyche. Indeed there is a measure of sympathy for the task he has taken on and hope that he can work what, on current evidence, appears to be the miraculous feat of keeping Everton up.
Quite how Everton manoeuvred themselves into a position where they did not add a single new recruit to their squad is hard to fathom. But that is entirely in keeping with the poor decision-making and structure which has seen them spend more than £500m since Moshiri arrived in February 2016 to make matters considerably worse.
Kenwright once told Everton's fans that the club's board was "revered" and a model for others when it came to problem solving. The jibe now is that Everton represent the ideal model of how not to solve problems, but instead how to create them.
Even Everton's managerial search failed to inspire confidence they had a clear vision.
To be reduced to two main candidates as different in every respect as the maverick former Leeds United manager Marcelo Bielsa, favoured by Moshiri and who flew in from Brazil to tell his potential new bosses he was happy to take charge of the club's younger sides before assuming control in the summer, and Dyche, did not smack of structure or aligned thinking about what was required.
And once again it is Moshiri, Kenwright and Barrett-Baxendale in the firing line. They, along with other board members - former striker Graeme Sharp and finance chief Grant Ingles - stayed away from Everton's last home game against Southampton on security advice. There was a peaceful protest at the end of the game, which Everton lost 2-1 to the bottom club to hasten Lampard's demise.
It remains to be seen whether they will attend against Arsenal on Saturday, but it would be a brutal reflection of Everton's parlous plight if it came to pass that the new manager looked behind him in his first game in charge only to see empty seats where the club's hierarchy should be.
Thelwell has been in attendance but even he is now under fierce scrutiny after the failure to do any deals, and also the lengthy list of names that Everton were reportedly interested in but could not secure.
The relationship between Everton supporters and the board has been badly broken in recent weeks, and the mood has deteriorated to such an extent following the closure of the transfer window that it is hard to see how it can be repaired.
Amid this stands Dyche. All of Everton's hopes are resting on the experience he gained in a decade at Burnley, his engaging, inspiring personality and strength of character counted on to inspire a failing side. He, at least, has been warmly welcomed.
Dyche has Everton's immediate future riding on him but he will have to go with what he has inherited after the club's board and director of football ended up doing football's equivalent of dry January.


Our coverage of Everton is bigger and better than ever before - here's

everything you need to know

to make sure you never miss a moment