In multiple interviews, Henry has said he's intent on doing Geralt's character arc justice by staying true to the source material. So, does his departure from the series and Liam Hemsworth stepping in suggest something is happening behind-the-scenes?
The good news? The Witcher has been confirmed for Season 4 — and considering that Season 3 hasn't even premiered yet, that's a fantastic sign about the future of the show, which is based on Andrzej Sapkowski's best-selling book series.
But that renewal comes at a bittersweet cost as — from Season 4 onwards — fans will be tossing a coin to a new Witcher, with Netflix announcing Henry Cavill's departure and replacement.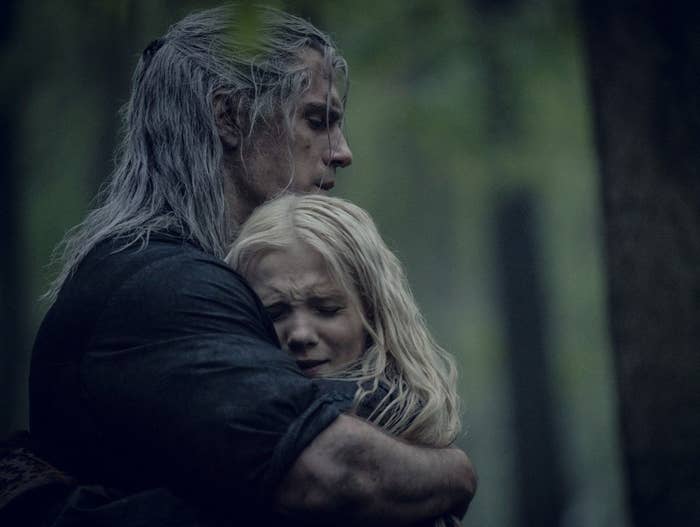 A statement shared to the show's official Twitter account said, "Henry Cavill will be handing his swords to Liam Hemsworth as the new Geralt of Rivia after Season 3. Welcome to the Witcher family, @LiamHemsworth!"
Now, you'll most likely recognise Australian actor Liam Hemsworth from The Hunger Games film series, where he played Gale Hawthorne.
On Instagram, Liam paid tribute to Henry's portrayal of Geralt, and noted that he was "honoured" to be handed the reins and allowed to "take up the White Wolf's blades for the next chapter of his adventure".
"I may have some big boots to fill, but I'm truly excited to be stepping into The Witcher world".
Meanwhile, Henry posted a sweet goodbye to Geralt, saying that he'll be "laying down my medallion and my swords" and "pass[ing] the torch with reverence for the time spent embodying Geralt and enthuasiasm to see Liam's take on the most fascinating and nuanced of men."
"Liam, good sir, this character has such a wonderful depth to him. Enjoy diving in and seeing what you can find."
While there seemed to be an air of finality with both of the actors' social media posts, fans were immediately left stunned after the announcement, with some calling for a cancellation of The Witcher.

For those not involved in The Witcher fandom, this might seem like unnecessary hate towards Liam — especially since we've not even seen his take on the much-loved character.
Being the replacement actor in a series is never easy, but where this stings most for fans is that Henry was, in a way, perfectly cast as Geralt.
The actor not only loves the source material (including the video game adaptations), but he repeatedly badgered his agents to land him a meeting with showrunner Lauren Schmidt Hissrich before the Netflix series was even green-lit, so that he could lobby for the role.
That's clear as day when you hear stories of him acting as a sort of The Witcher bible for the crew and cast while on-set.
It's no wonder then that Andrzej Sapkowski — the author of The Witcher book series — has given Henry's performance his seal of approval.
So, why leave the series then? Fans initially theorised that it could be due to Henry's return to the DC Extended Universe as Superman, with the actor announcing that his recent cameo during the end credits of Black Adam was but a "small taste of things to come."
But looking back at Henry's passion and obvious love for The Witcher, it seems strange that he would not attempt to juggle both projects, right? Well, here's where things start to get a little bit messy and we lurk into uncharted waters.
Word on the internet is that some behind-the-scenes drama involving the writers of The Witcher and their "open disdain for the books, games and fans themselves", is what may have led to Henry leaving the series.


This seems to have been confirmed by Beau DeMayo, a former producer and writer on The Witcher, during a recent Instagram Q&A talking about the development of X-Men '97.
"I've been on shows — namely Witcher — where some of the writers were not or actively disliked the books and games (even actively mocking the source material). It's a recipe for disaster and bad morale. Fandom as a litmus test checks egos, and makes all the long nights worth it. You have to respect the work before you're allowed to add to its legacy."
Alongside Beau's comments, it's easy to see how Henry — a superfan of The Witcher — would have become increasingly disenfranchised with the direction that the series is headed in, eventually leading to his exit.
Whatever the truth is, it's a sad day for The Witcher fans. But at least we'll have Henry appear in Season 3, which will hopefully have a proper send-off for his portrayal of Geralt of Rivia.