A group of Republicans in the House of Representatives are sending a letter to President Biden demanding an investigation into the Chinese Communist Party's position in the recently-collapsed Silicon Valley Bank.
The GOP lawmakers are seeking to clarify how federal efforts to restructure the bank could benefit CCP-backed companies with taxpayer funds, according to the letter obtained by Fox News Digital on Saturday.
"According to a recent report, a subsidiary branch of the Silicon Valley Bank, the SPD Silicon Valley Bank (SSVB) was a 50-50 joint venture between the Chinese Communist Party (CCP) state-owned Shanghai Pudong Development Bank and SVB Financial," the letter reads.
BIDEN'S CLIMATE CHANGE 'ZEALOTRY' CONTRIBUTED TO SILICON VALLEY BANK COLLAPSE, REPUBLICAN AGs CHARGE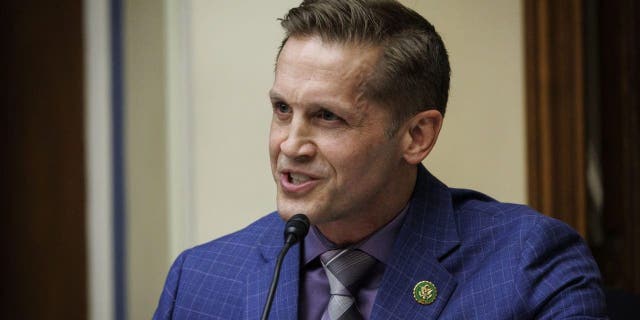 Representative Rich McCormick, a Republican from Georgia, speaks during a House Select Subcommittee on the Coronavirus Pandemic hearing in Washington, DC. (Photographer: Ting Shen/Bloomberg via Getty Images)
It continues, "In August 2012, SSVB was founded as the first Sino-American collaborative banking institution, with a primary emphasis on extending loans to Chinese tech startups."
The House Republicans are demanding answers on what Chinese companies were listed with Silicon Valley Bank, as well as their cash and asset holdings with the bank.
The signees express concern that a federal bailout of the collapsed financial institution could end up helping CCP-backed entities.
GAVIN NEWSOM HIDES TIES TO FAILED SILICON VALLEY BANK IN STATEMENT PRAISING BIDEN'S BAILOUT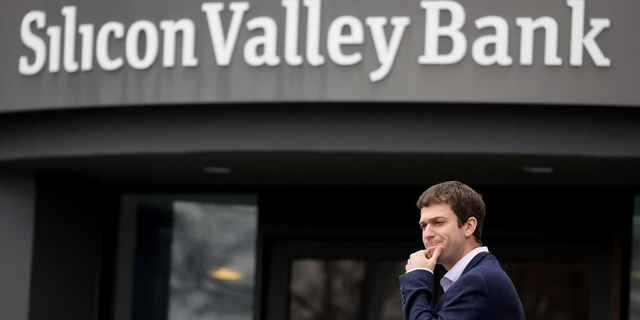 A customer stands outside a shuttered Silicon Valley Bank (SVB) headquarters on March 10, 2023, in Santa Clara, California. Silicon Valley Bank was shut down on this month by California regulators and was put in control of the U.S. Federal Deposit Insurance Corporation. (Justin Sullivan/Getty Images)
"The fact that both SSVB and SVB have played an indispensable role in financing China's innovation economy, serving over 2,000 clients and advising CCP government regulators is extremely concerning and raises serious questions," the letter reads. "SVB is reported to assist Chinese businesses in obtaining American investment or going public abroad, thereby circumventing restrictions on raising funds and listing outside of China."
Additionally, the letter seeks clarification on any financial connections between members of the Biden family and Chinese companies with holdings in Silicon Valley Bank.
SILICON VALLEY BANK COMMITTED 'ONE OF THE MOST ELEMENTARY ERRORS IN BANKING,' LARRY SUMMERS SAYS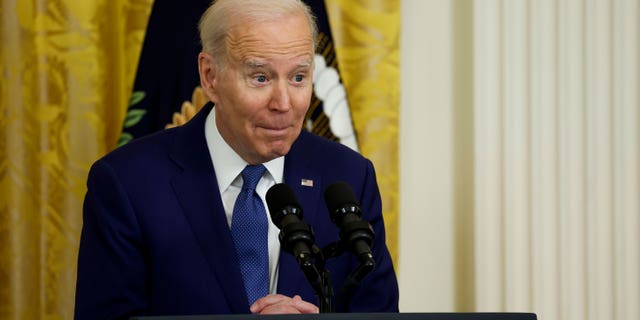 President Biden speaks at an event marking the 13th anniversary of the Affordable Care Act in the East Room of the White House on March 23, 2023, in Washington, D.C. (Anna Moneymaker/Getty Images)
"Furthermore, recent revelations that members of the Biden family have received payments from Chinese companies through an intermediary associate make it a matter of vital national interest to determine which institutions aligned with the CCP stand to benefit from the U.S. government's support of SBV, and what influence they may have on Executive Branch policymaking as a result," the lawmakers write.
The letter was drafted by Republican Rep. Rich McCormick.
"The Department of the Treasury, Federal Reserve, and FDIC cannot afford to be asleep at the wheel while the CCP finances its companies with the support of U.S. venture capitalists at the expense of American taxpayers," the letter concluded.
CLICK HERE TO GET THE FOX NEWS APP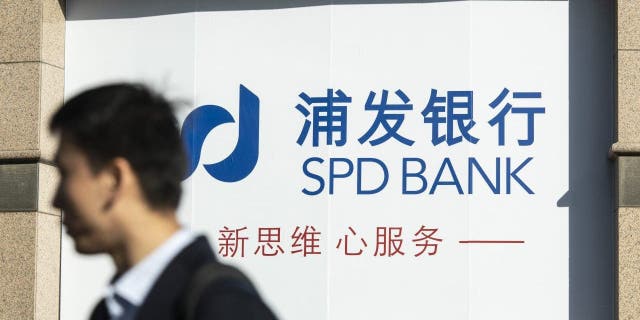 Signage at a Shanghai Pudong Development Bank Co. branch in Shanghai, China, on Tuesday, March 14, 2023. Shanghai Pudong said its joint venture in China with Silicon Valley Bank isn't affected by the turmoil surrounding the US lender, and urged clients to stay calm. (Qilai Shen/Bloomberg via Getty Images)
The letter has 19 co-signers, according to McCormick's office — Reps. Eli Crane, W. Gregory Steube, Barry Loudermilk, Mike Collins, Rick Crawford, Ryan Zinke, Troy E. Nehls, Tom Tiffany, Mark Amodei, Doug Lamborn, Rick W. Allen, Lauren Boebert, Austin Scott, Andy Ogles, Ralph Norman, Tim Burchett, Harriet Hageman, Joe Wilson, Andy Biggs
"The American people deserve to know whether their government is bailing out companies connected to the Chinese Communist Party," McCormick told Fox News Digital.
The representative added, "Joe Biden should answer whether his family has received large payments from companies in China, and whether his judgment was influenced as a result. American tax dollars should not go to our global adversaries, period."
The lawmakers gave Biden an April 3 deadline for the provision of relevant documents and requested answers.
Timothy Nerozzi is a writer for Fox News Digital. You can follow him on Twitter @timothynerozzi and can email him at timothy.nerozzi@fox.com