A sheriff in Illinois is reversing course and says he will enforce a state assault weapons ban if the law is implemented, after calling the bill unconstitutional.
DuPage County Sheriff James Mendrick said in a Jan. 13 statement that he believes the assault weapons ban signed by Governor J.B. Pritzker is unconstitutional.
"I, among many others, believe that HB 5471 is a clear violation of the 2nd Amendment to the US Constitution," Mendrick said.
"Therefore, as the custodian of the jail and chief law enforcement official for DuPage County, that neither myself nor my office will be checking to ensure that lawful gun owners register their weapons with the State, nor will we be arresting or housing law-abiding individuals that have been arrested solely with non-compliance of this Act," Mendrick added.
The sheriff said that despite some media reports, he was not "threatened" in the meeting.
ILLINOIS SHERIFF REFUSES TO ENFORCE NEW GUN CONTROL LAW: 'CLEAR VIOLATION OF THE 2ND AMENDMENT'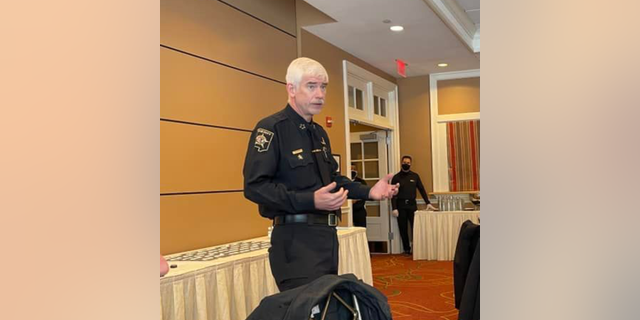 DuPage County Sheriff James Mendrick said in a Jan. 13 statement that he believes the assault weapons ban signed by Governor J.B. Pritzker is unconstituinal. (DuPage County Sheriff )
However, after Mendrick attended a meeting with DuPage County Board Chair Deborah Conroy and DuPage County State's Attorney Robert Berlin, the sheriff reversed course and said he would enforce the law.
"Enforcement of this law does not demand that deputies go door to door seeking to remove weapons from those licensed to own them. With this understanding, Sheriff Mendrick is committed to enforcing all state and local laws," Berlin, Conroy, and Mendrick said in a joint statement posted to Facebook on Tuesday.
Mendrick said that while deputies won't be going "out proactively to take your lawfully owned guns," penalties will be enhanced for those using guns in the commission of crimes.
CALIFORNIA REELS FROM STRING OF MASS SHOOTINGS DESPITE HAVING SOME OF THE STRICTEST GUN LAWS IN US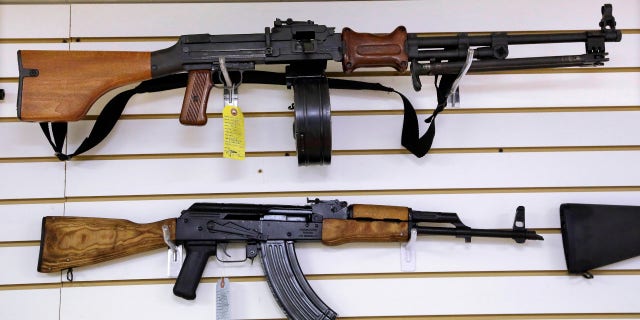 FILE - Assault weapons are seen for sale at Capitol City Arms Supply on Jan. 16, 2013, in Springfield, Illinois. (AP Photo/Seth Perlman, File)
"Those that commit gun crimes in DuPage will find out how seriously we take gun offenses. If you are not using a gun to conduct criminality, you have nothing to fear from us. If your use of a gun is to harm someone within DuPage County, we are united to make sure you endure every possible penalty that we can bestow upon you for your crimes," Mendrick said.
Mendrick's initial refusal of enforcing the law drew criticism from Rep. Sean Casten, D-Ill., who claimed that his "actions are going to make future mass shootings more likely."
The sheriff responded to Casten and said that "There is absolutely nothing that we are doing or not doing that would make a mass shooting more accessible in DuPage County."
"In fact, I have asked on multiple occasions to increase penalties on all existing gun crimes, but it does not appear that they want to have that conversation," Mendrick added.
Pritzker signed the gun control law on Jan. 10, which bans the sale and distribution of assault weapons, high capacity magazines and switches, which went into effect immediately after he approved it.
The law is on hold after an Illinois appeals court expanded a temporary restraining order against the law to cover the entire state on Tuesday.
CLICK HERE TO GET THE FOX NEWS APP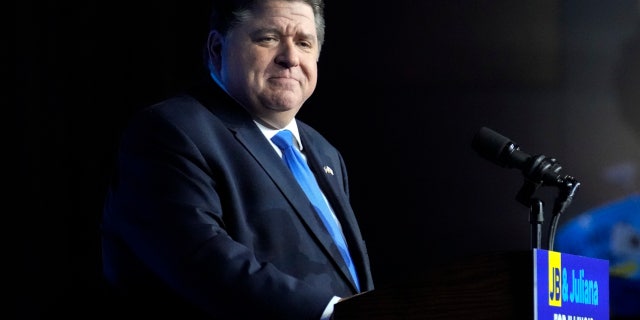 FILE - Illinois Gov. J.B. Pritzker looks to supporters after he defeated GOP challenger Darren Bailey on Nov. 8, 2022, in Chicago. (AP Photo/Seth Perlman, File)
Previously, the temporary restraining order only applied to the plaintiffs.
The ruling states that the plaintiffs had a "a likelihood of success on the merits" in regards to their argument that the law violates the state and U.S. Constitution's equal protection clause.
Fox News' Jeffery Clark contributed to this report.
Adam Sabes is a writer for Fox News Digital. Story tips can be sent to Adam.Sabes@fox.com and on Twitter @asabes10.