Supreme Court Justice Ketanji Brown Jackson was the lone dissenter in a closely watched abortion case this week, but has so far shown in her nine months on the bench that she is open and able to find agreement with her conservative colleagues.
Jackson was praised by the left when she filled the bench vacancy after Justice Stephen Breyer retired last year. On Monday, she was the only justice to dissent in a case that wiped out a lower court's decision to uphold a minor's right to go to court for permission to obtain an abortion.
Everyone but Jackson on the court voted to overturn a lower court ruling that said a state court clerk could be sued for denying a pregnant teenager's request for permission to get an abortion without her parents' consent. The Supreme Court told the lower court the case should be moot in light of the recent Dobbs decision that overturned Roe v. Wade.
KETANJI BROWN JACKSON'S RACIAL 'IT'S A WONDERFUL LIFE' ANALOGY CONFUSES CRITICS: CRT 'WRECKS EVERYTHING'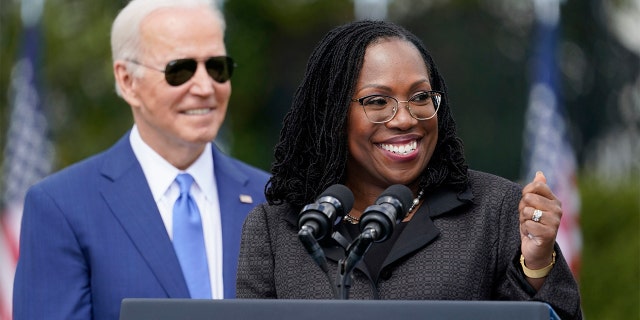 Judge Ketanji Brown Jackson speaks during an event on the South Lawn of the White House in Washington, Friday, April 8, 2022, celebrating her confirmation as the first Black woman to reach the Supreme Court. (AP Photo/Andrew Harnik)
But in her first majority opinion issued last month, Jackson earned support from her conservative colleagues in a case dealing with a dispute between multiple states over unclaimed money – in this case, $250 million of unused money orders issued by MoneyGram, which is based in Texas but headquartered in Delaware. The ruling was unanimous, and the eight other justices supported different parts of the opinion.
SUPREME COURT JUSTICE JACKSON GETS SUPPORT FROM CONSERVATIVES IN FIRST MAJORITY RULING
Jackson was confirmed last year after a contentious nomination process in which Senate Judiciary Committee Republicans challenged Jackson's judicial history of lenient sentencing for violent criminals. Conservatives considered her one of President Biden's more ideological liberal options to fill Breyer's role, and were alarmed when Jackson couldn't define what a "woman" is, and instead told senators she is "not a biologist."
Jackson has shown equal willingness to go against her more conservative colleagues. In one of the court's high-profile cases this term dealing with a graphic designer who is refusing to create websites for gay weddings, Jackson sparked criticsm from conservatives by her questioning in the December oral argument.
The justices were debating whether Colorado's anti-discrimination laws violates the First Amendment by compelling the designer to work on a same-sex wedding website against her will.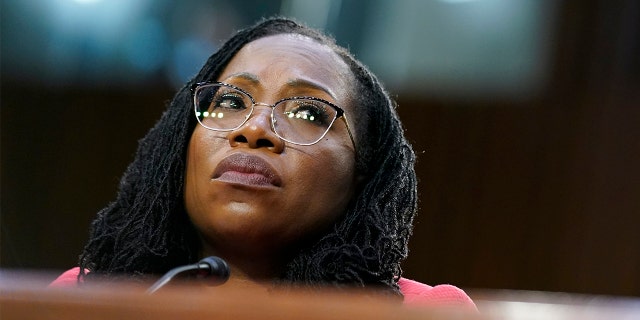 Then- Supreme Court nominee Ketanji Brown Jackson testifies during her Senate Judiciary Committee confirmation hearing on Capitol Hill in Washington, Tuesday, March 22, 2022. (AP Photo/Andrew Harnik)
Jackson suggested that the graphic designer's argument in the case could be used to endorse racial discrimination against people of color in a hypothetical "It's a Wonderful Life"-themed photo shoot or a vintage Santa-themed shoot with only White customers.
Conservatives were outraged, saying that her comments were based in Critical Race Theory (CRT).
REPUBLICANS BAFFLED THAT KETANJI BROWN JACKSON CAN'T SAY WHAT A WOMAN IS: 'IT IS A SIMPLE QUESTION
In January, Justice Brett Kavanaugh – who typically sides with the more conservative members of the bench – had nothing but praise for his new colleague, telling an audience at the University of Notre Dame Law School that she has "hit the ground running," and described her as someone who is "fully prepared, thoroughly prepared" and "off to a great start."
"We miss Justice Ginsburg, of course, and Justice Breyer, but there's turnover, and it's wonderful to have two new colleagues who have fit in, in my judgment, fit in well with the group," he said, speaking also of Associate Justice Amy Coney Barrett who was nominated by President Donald Trump in 2020.
He told the law students in the audience that the justices spend "an enormous amount of time" together, eating lunch after every oral argument and conference and becoming friends.
"You can't talk about work at lunch. So, you talk about the things that you would talk about with your friends. You talk about your kids, you talk about movies, you talk about books, you talk about war stories … again and again," Kavanaugh said cheerfully.
LIBRARY OF CONGRESS EXPLAINS WHY IT HOSTED JACKSON INVESTITURE BUT NOT FOR GORSUCH, KAVANAUGH, BARRETT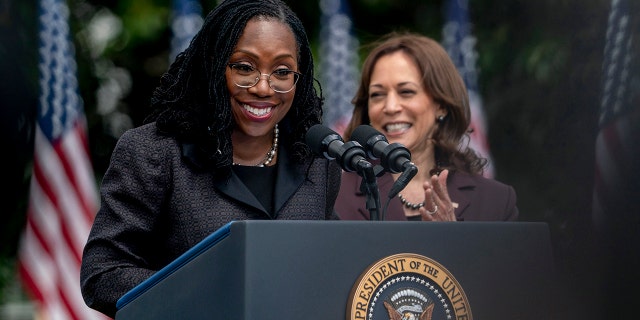 Judge Ketanji Brown Jackson, accompanied by Vice President Kamala Harris, speaks during an event on the South Lawn of the White House in Washington, Friday, April 8, 2022. (AP Photo/Andrew Harnik)
Justice Jackson stepped into an extraordinary era for the Supreme Court, with the unprecedented leak of the draft Dobbs opinion last May that ultimately overturned Roe v. Wade and sent the issue of abortion rights back to the states. Some accused the 6-3 majority of Republican-appointed Supreme Court justices of undermining the court's legitimacy.
CLICK HERE TO GET THE FOX NEWS APP
But according to Kavanaugh, the justices are still on friendly terms despite spirited disagreements.
"There are great relations among all nine justices both personally and professionally. We only get tough cases, and we disagree on some of those. I think that's more nuanced than it is sometimes portrayed," Kavanaugh said.
Fox New Digital's Timothy H.J Nerozzi, Ronn Blitzer, Tyler Olsen and Chris Pandolfo contributed to this report.
Brianna Herlihy is a politics writer for Fox News Digital.