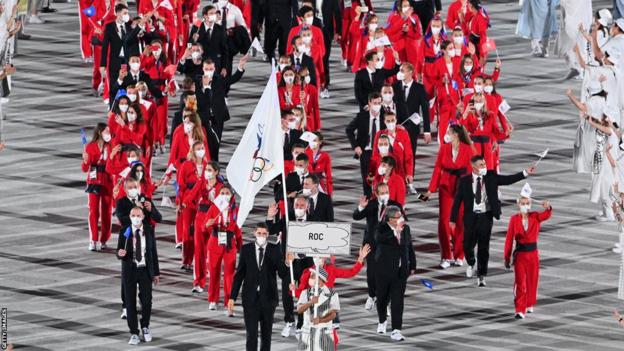 Latvia could join Ukraine in boycotting the 2024 Paris Olympics if Russian and Belarusian athletes are allowed to compete.
Ukraine's sports minister said last week the country would boycott the games as long as the war continues.
On Tuesday, Latvia's Foreign Minister said Russia and Belarus' participation would be "unacceptable".
Ukrainian tennis player Elina Svitolina agreed, saying countries must be "united" on sanctions.
Latvia, which borders Russia, has been a strong supporter of Ukraine.
The International Olympic Committee said last Wednesday it would "explore a pathway" for athletes from the two countries to take part as neutrals.
But the UK Government has condemned the plan as a "world away from the reality of war" while Latvia's National Olympic Committee said the presence of the athletes would be an "encouragement for further escalation of warfare, and normalisation of war crimes and brutal violence".
The NOC added: "For as long as there is an ongoing war in Ukraine, participation of the Russian and Belarusian athletes in the Olympic Games under any flag is unacceptable."
The Baltic ministers of sport - from Estonia and Lithuania, as well as Latvia - will meet on Thursday to discuss a joint appeal to the IOC to ban Russian and Belarusian athletes from all international competition.
Ukraine's president Volodymyr Zelensky has said Russian athletes should have "no place" at the Paris Games.
The IOC previously asked sporting federations to exclude competitors from the countries following Russia's invasion of Ukraine last year.
However, the IOC's statement last week said "no athlete should be prevented from competing just because of their passport".
Last month, IOC president Thomas Bach spoke of not wishing to punish individual athletes for the actions of their governments and Russia has said a campaign to exclude it from international sport will fail.
'Heinous acts' must have 'consequences'
Former world number three Svitolina, who won bronze at the Tokyo 2020 Olympics, said in a statement on Twitter: "The Olympics are the biggest dream and ultimate privilege for athletes. They are the largest platform for inclusion and diversity in sports, capturing the attention of the world."
"With this in mind we must stick to banning Russian and Belarusian athletes... that we are united in the sanctions imposed against Russia and Belarus and that there are consequences for the heinous acts of their governments," she added.
"Their lives cannot continue as normal and the world, nor the Russian and Belarusian people, can not be ignorant of the atrocities they are committing in Ukraine."
Svitolina reached the semi-finals of Wimbledon and the US Open in 2019 and has not played since giving birth to her first child last year.