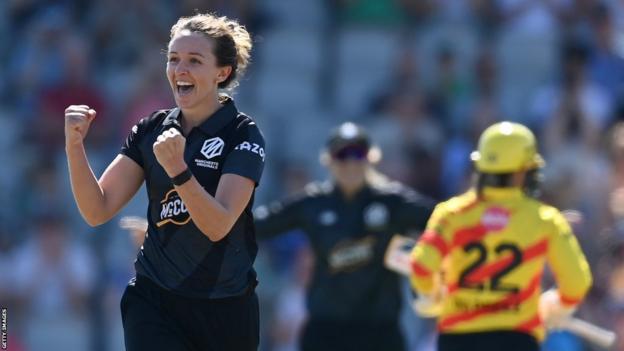 Date:
1-27 August
Coverage:
Follow live across BBC TV, radio and the website & app
England bowler Kate Cross says she "didn't know how to feel" about signing for Northern Superchargers in the "awful" Hundred draft.
Cross, 31, has spent two years as captain of Manchester Originals but rivals Superchargers bought her for a tournament-high £31,250 in the draft.
It will see Cross play for a Yorkshire-based side having spent her entire career in Lancashire's set-up.
"Please be kind to me Headingley," said Cross on No Balls: The Cricket Podcast.
Cross watched the draft with co-host Alex Hartley, who was part of England's 2017 World Cup-winning side.
Neither were paying full attention at the start, with Cross not expecting to be picked in the top-price bracket, but when Hartley saw Cross' name in purple [the colour Superchargers wear] she screamed in excitement and "basically hit Cross round the head with a pillow".
"I knew literally nothing. I didn't know how to feel, I was silent," said Cross.
"I had a plan with Manchester Originals and I knew they weren't going to their Right to Match if I went in the top-price bracket because they wanted to use their slot there for an overseas player.
"We half-presumed I wouldn't go at top pick and they would buy me at £25,000. I was like 'that will happen'. I'd convinced myself that would happen."
Cross will be joined by Australia's Alyssa Healy, Georgia Wareham and Heather Graham at Headingley, along with England all-rounder Alice Davidson-Richards.
"I'm going to love it and I'm going to give everything for the team I play for because I always do," added Cross.
"My mum rang me and she is one of those people who tells me that everything will be OK, this will happen, you'll be with new people and it will all be fine.
"I know all of that, I know it will be great and I'll love it, but it's just such a big thing to get my head around that I won't be playing in the environment I've been playing in my whole career."
'Shaking' Hartley happy with Fire reunion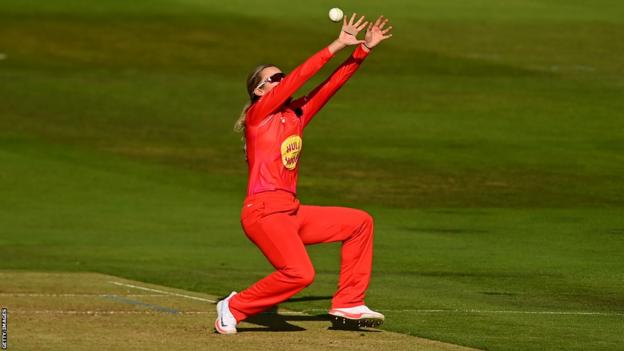 Hartley was "buzzing" to rejoin Welsh Fire for £15,000 because "she loved her first year there".
The left-arm spinner has openly spoken about considering retirement from cricket in the past year and she went into the draft knowing there was interest from Fire, Trent Rockets and Originals, but she had to wait until the final pick to be signed.
That wait led to nerves for the 29-year-old, especially as she "cried, cried and cried" after missing a pre-season game with Lancashire Thunder this week, which made her realise how much she wanted to still play.
"I knew I would probably still get picked up outside of the draft but it is an ego thing for me," said Hartley, who said she was "shaking" before her name came out.
"I still think I am a really good cricketer but you don't know if teams think that."
'It was awful but it has done what it said on the tin'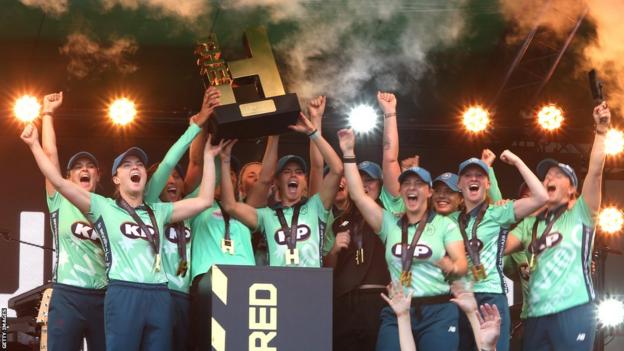 In the first two years of the competition, women's squads were completed by players and teams agreeing deals in private, but the tournament organisers, the England and Wales Cricket Board, decided to run a draft to refresh the squads and address a perceived lack of balance across sides after Oval Invincibles beat Southern Brave in both finals.
It was the first women's player draft in a major UK sport and followed a player auction for the inaugural Women's Premier League in India, which took place while England were playing against Ireland in the T20 World Cup in February.
"It was awful really, wasn't it?" said Cross.
"The WPL auction was gross and it was equally as awful on Thursday.
"It is so strange to find out information at the same time as everyone else. That is the thing I am struggling with the most."
Women's squads consist of eight players after the draft with another seven being signed in an open market.
Harley said "phones were ringing one minute after the draft", while Cross said: "I had a head coach ring me saying 'can I have xyz's number?'"
However, despite the nerves and trepidation while watching, both agreed the draft has met the purpose.
"It has done what it said on the tin and evened out the teams," said Cross, who was part of the first Originals squad with Hartley in 2021.
"There was a lot of annoyance from fans about allegiances and you follow teams because of players and we've had a lot of messages about being the OGs (Originals) at Manchester and now neither of us play there.
"It is going to look different."