(Image credit:
Hamburger Kunsthalle, Photo: Elke Walford
)
Three new exhibitions explore how the femme fatale in art reflects evolving anxieties, writes Cath Pound.
The figure of the femme fatale is one of the defining literary and artistic motifs of the 19th and early 20th Centuries. Artists were drawn to historical archetypes of female seduction such as Cleopatra or Lucrezia Borgia, characters from Old Testament stories including Salome, Judith and Delilah, or mythical figures such as Circe, Helen of Troy and Medea. Others were conjured from their male author's imagination – Prosper Mérimée's Carmen, Émile Zola's Nana and Frank Wedekind's Lulu being some of the most notable.
More like this:
- A chronicler of US turbulence
- How fear shaped ancient mythology
- The women who redefined colour
Her emergence is frequently seen as a response to anxieties arising from profound social change as women pushed for greater economic, political and educational rights, challenging the established patriarchal order. Middle-class women who sought education were, according to the British psychiatrist Henry Maudsley, likely to damage their reproductive organs, turning them into monstrosities who threatened the survival of the human race. Fear of contagious diseases such as syphilis was another factor, with working-class prostitutes being seen as contemporary femmes fatales who could lure their clients to their doom.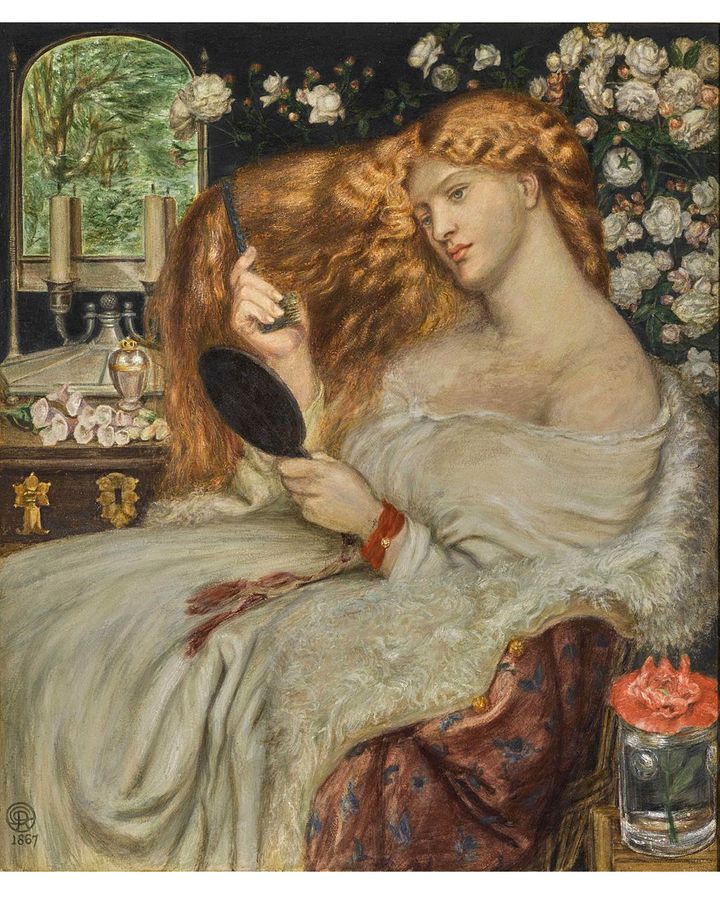 In Dante Gabriel Rossetti's Lady Lilith (1866-68), Adam's first wife is depicted in front of a mirror, seemingly self-absorbed (Credit: Heritage Images/Getty Images)
The 19th-Century image of the femme fatale was largely shaped by the Pre-Raphaelites in images such as Edward Burne Jones' The Beguiling of Merlin (1872-77) or Dante Gabriel Rossetti's Lady Lilith (1866-68). The latter sees the disobedient first wife of Adam transformed into a vain bohemian beauty admiring her luscious locks in a hand mirror.
Were they responding to a trend or instrumental in shaping the narrative? "I think both," says Carol Jacobi, curator of Tate Britain's forthcoming exhibition The Rossettis. "They were responding to social trends, both the reactionary ones and the whole idea of the 'fallen woman', and also the women in their circle who were the New Women. At the same time, I think Rossetti creates a new visual language for the femme fatale that brings it to the mainstream and was picked up by a lot of other artists."
Independent women
The Pre-Raphaelites, Rossetti in particular, seem to have been drawn to beautiful, accomplished women, while also being wary of them. "He did link the painting Lilith to the New Woman. He also said it was linked to 'the perilous principle of the world being female in the first'," says Jacobi.
Despite their reputation for challenging convention, Rossetti and the other pre-Raphaelites were still people of their time. "You can see their prejudices in the way they write," says Jacobi. At the same time Rossetti was supportive of the unapologetically independent women in his life. "The women he loved, and his sisters, were all working women… Christina and Maria worked their whole lives, controlled their own professions and their professional life, so he's surrounded by these women who are not being contained by Victorian middle-class expectations," says Jacobi.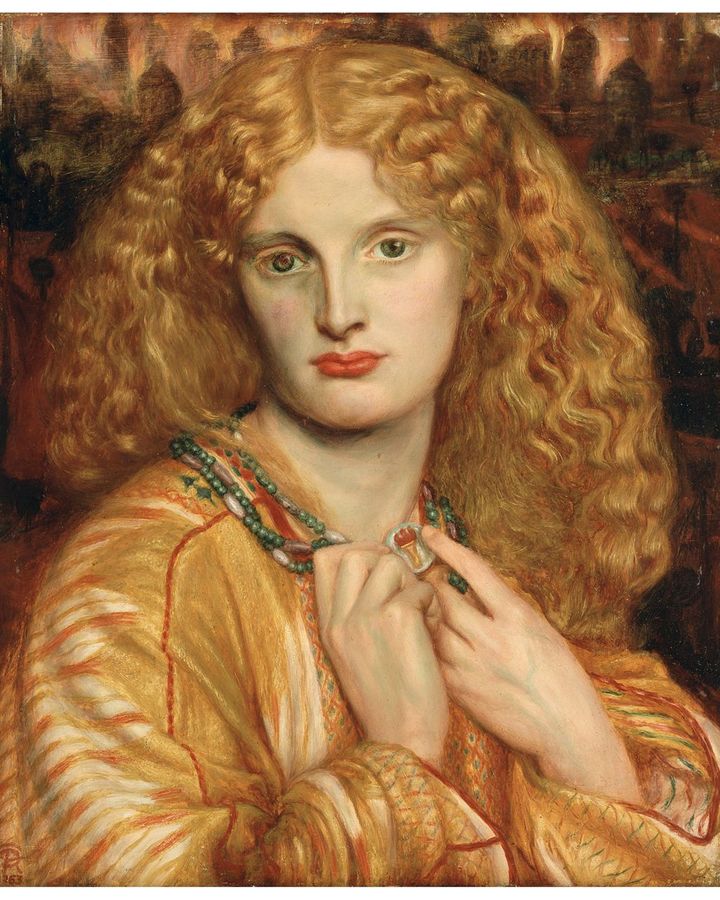 Rossetti's Helen of Troy (1863) shows the figure from Greek mythology in an ambiguous way (Credit: Hamburger Kunsthalle, Photo: Elke Walford)
Perhaps as a result, Rossetti's femme fatales, such as Helen of Troy (1863), are "never resolved. They're always ambiguous and ambivalent," says Jacobi. "They're complicated women, quite often you can't read them. They're very self-sufficient, they're not letting you know what they're thinking."
"Having said all that, Rossetti's femme fatale was the basis for the really bad version… the next generation of artists took the femme fatale and made her more sensational," says Jacobi.
In John William Waterhouse's Circe (1892), there is no question that her power is linked to her seductive nature, while John Collier's highly eroticised depiction of Lilith (1889), which sees her revelling in the snake that coils around her naked body, couldn't be further from Rossetti's portrayal.
Artists as diverse as Gustav Moreau, Gustav Klimt and Edvard Munch all portrayed the femme fatale, and there was rarely any room for ambiguity – these women were dangerous temptresses.
Although most artists relied on biblical or mythical imagery, The Impressionists, as one would expect given their focus on everyday life, transported the femme fatale to the present day.
Modern-day femmes fatales
Édouard Manet's Nana (1877), which depicts a high-class prostitute in a state of undress with her next client seated on a sofa behind her, is widely thought to have been inspired by Zola's character of the same name. Nana, who made her first appearance in L'Assommoir before becoming the subject of her own eponymous novel in 1880, destroys every man who desires her before dying her own horrible death of smallpox. The painting was refused entry to the Paris Salon, perhaps because the contemporary setting was a little too close to the bone.
Max Lieberman took an equally contemporary approach in his Samson and Delilah (1902), turning the biblical story into a modern-day battle of the sexes. Delilah, triumphantly holding her lover's shorn hair above her head with one hand, while crushing him into the bed with the other, is the embodiment of the powerful, sexually confident woman that so unnerved the men of the era.
The femme fatale was also a favourite subject for sculptors. Some particularly striking examples can be seen in The Colour of Anxiety: Race, Sexuality and Disorder at the Henry Moore Institute in Leeds, which explores the intriguing premise that the increasing use of colour in 19th-Century sculpture was a means of highlighting Victorian anxieties.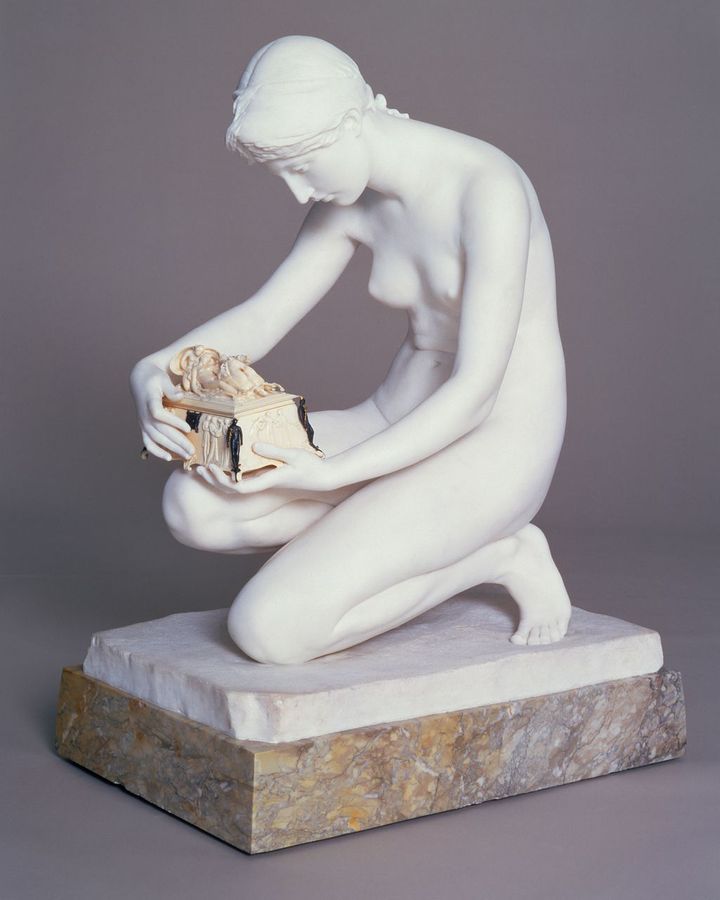 In this 1890 sculpture by Harry Bates, Pandora is shown in a moment of hesitation before opening the forbidden box (Credit: Tate)
"I think colour is used to draw your attention to the dangerous elements," says co-curator Nicola Jennings. In Harry Bates' sculpture of Pandora (1890), the mythical figure whose insatiable curiosity unleashed evil and misery on the world, "you have this incredible contrast between the completely smooth, featureless white body of Pandora and the box which is coloured," says Jennings. No doubt Pandora was intended as an example of the dire consequences of women seeking knowledge.
The effect is even more dramatic in Sir George Frampton's Lamia (1899-1900), an ancient Greek femme fatale, well known to Victorians thanks to a poem by Keats. Half-woman, half-snake, she was said to seduce young men and then feed off their flesh. Her deathly pale skin and icy expression are brought into terrifying relief by her blackened bronze helmet and robe.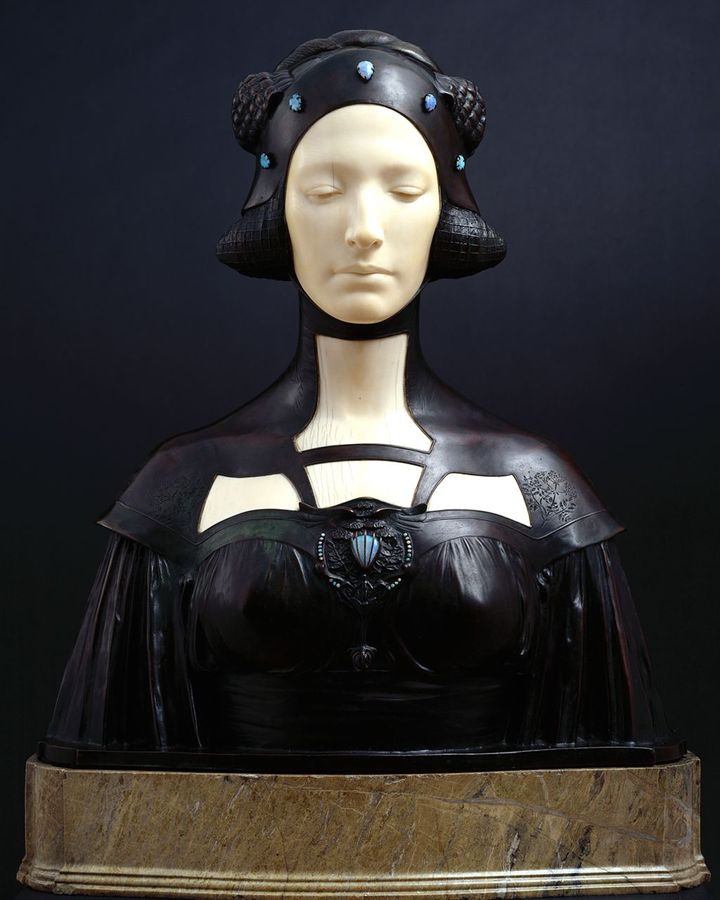 Sir George Frampton's Lamia (1899-1900) is a serpent-like creature who assumes female form to win the love of a mortal (Credit: Royal Academy of Arts London, Photo: Paul Highnam)
Were the artists revealing their own prejudices or simply responding to those of their clientele? "They were attitudes that were shared quite widely in that caste of men. They had a particular type of education – public school, knowledge of Greek mythology and of what was happening in the colonies," says Jennings.
Racist portrayals
This knowledge extended to a taboo desire for black women and a fear of the miscegenation that may occur in the aftermath of abolition (of course this was already happening in the colonies due to the abuse of enslaved women). Black women are portrayed in sculpture as wholly reluctant femmes fatales, victims of the combined desire and fear of their creators and purchasers. "There's no question that they're racist. They (the sculptors) see them as 'lesser' or 'different' but there is also a very compelling aspect to them," says co-curator Dr Adrienne L Childs. Charles Cordier's Venus Africaine (1852), which was intended to bring the tragedy of slavery to public attention, has a sensuous beauty.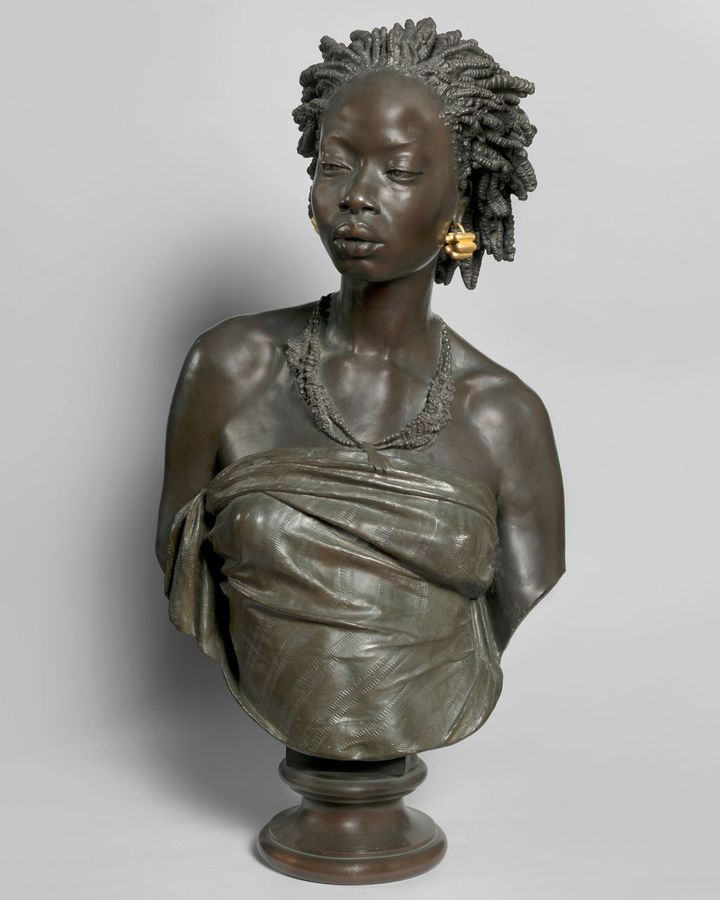 Venus Africaine (1852) by Charles Cordier, a sculptor who challenged Western ideals of beauty (Credit: Royal Collection Trust/ His Majesty King Charles III 2022)
Likewise, John Bell's The Manacled Slave/On the Sea Shore (1877), a reduced version of his American Slave (1853), which depicts a nude figure in chains, suggests the sexual exploitation of female slaves while also trading on what some saw as their taboo allure.
However, "it's not just black women who were interesting subjects in chains. This was something that was a phenomenon at the time," notes Childs. She points to Hiram Powers' The Greek Slave (1844), which depicts a Christian slave for sale at a Turkish slave market during the Greek War of Independence (1831-1832). So admired was the figure that it was reproduced in miniature form, allowing households across the country to purchase their own version. One cannot help but think its popularity stemmed from a fear of "femmes fatales". Here instead was a pale, naked woman in chains who could be popped on the mantelpiece and forever confined to the domestic sphere.
Unsurprisingly, female artists in the 20th Century were keen to throw off the shackles and take control of their own image. In the 1920s, artists such as Jeanne Mammen portrayed the increasingly emancipated women of the era in joyfully exuberant works such as Carnival Scene (c 1928).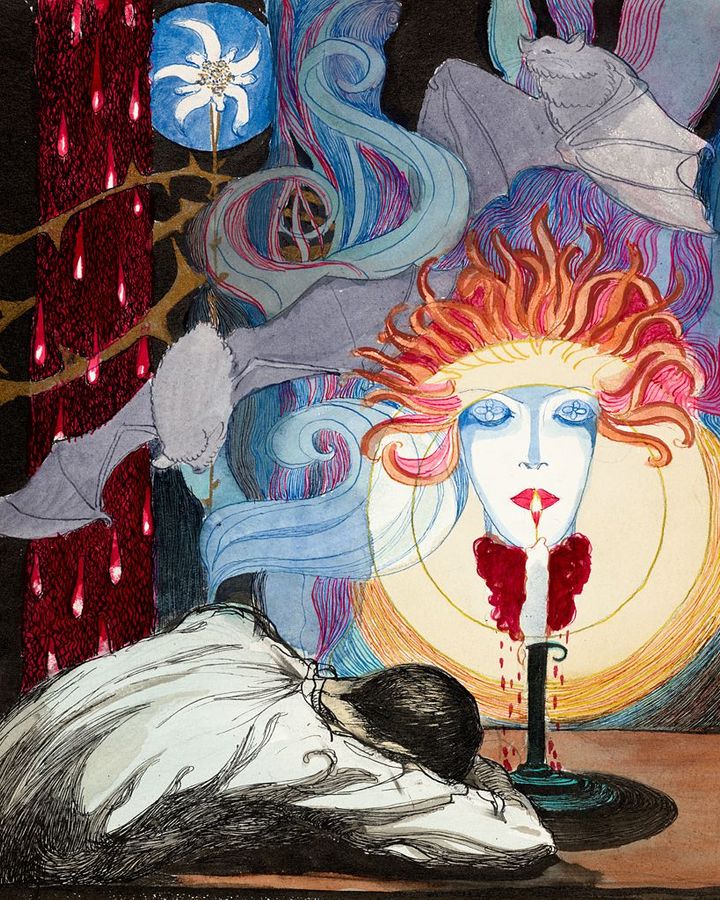 Jeanne Mammen's Mann and Medusa (1914) is one of a range of images by the artist showing the femme fatale in an exuberant light (Credit: VG Bild-Kunst, Bonn)
From the 1960s onwards, artists of the feminist avant-garde began tackling the image of the femme fatale head on. "They undermined the stereotype and created their own new narratives of femininity, sexuality, and physicality, especially through self-portraits or self-presentations," says Ruth Stamm, a research assistant on the Kunsthalle Hamburg's current exhibition, Femme Fatale: Gaze – Power – Gender. The mythological figures that had long fed the image of the femme fatale "were appropriated and reinterpreted, as powerful goddesses in Mary Beth Edelson's series, Women Rising (1973), or as figures beyond binary gender boundaries as in Sylvia Sleigh's painting Lilith (1976)," says Stamm.
Does the idea of the femme fatale still have an impact on contemporary society? "Yes, because after all, the idea of the femme fatale is a sexist image that has devalued women for centuries through demonisation, sexualisation and objectification. Sexism is deeply rooted in our society which is still a patriarchal one," says Selvi Göktepe, also a research assistant on the exhibition.
Female artists are exposing and tackling this head on. Göktepe points to Betty Tompkins' series Women Words (2018), in which offensive insults sent to her via email in the course of an open call appear on canvas. "Offensive words that aim to denigrate female sexuality and physicality appear particularly frequently," says Göktepe.
Tompkins has also explicitly connected the sexist, often sexually abusive, nature of contemporary society with the male dominated art canon. In her series Apologia (2018), she writes over reproductions of artworks taken from art history books with the apologies of those accused of abuse during the #MeToo campaign. Göktepe sees Tompkins' over-writing of Judith and Holofernes by Artemesia Gentileschi, in which Gentileschi seeks pictorial vengeance for her own sexual assault at the hands of her teacher, as particularly relevant. "It shows that the mechanisms at work in the femme fatale image are still part of our society. And by recognising this, we have the chance to dismantle them," says Göktepe.
The Colour of Anxiety: Race, Sexuality and Disorder is at the Henry Moore Institute, Leeds, until 26 February 2023.
Femme Fatale: Gaze – Power – Gender is at the Kunsthalle Hamburg until 10 April 2023.
The Rossettis is at Tate Britain, London, from 6 April to 24 September 2023.
If you would like to comment on this story or anything else you have seen on BBC Culture, head over to our Facebook page or message us on Twitter.
And if you liked this story, sign up for the weekly bbc.com features newsletter, called The Essential List. A handpicked selection of stories from BBC Future, Culture, Worklife and Travel, delivered to your inbox every Friday.