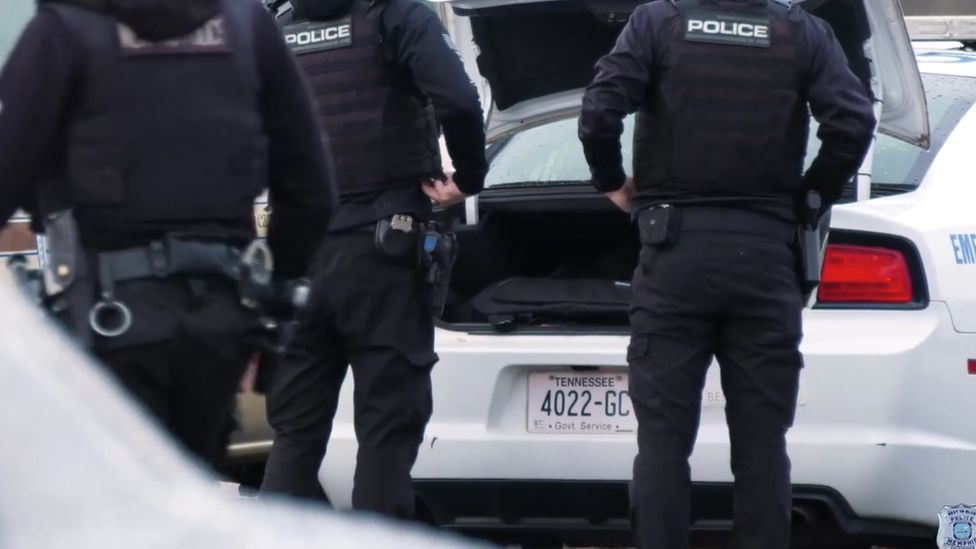 An elite police unit in Memphis whose ex-officers are charged with the murder of Tyre Nichols has been disbanded after its tactics came under scrutiny.
Scorpion - which stands for "Street Crimes Operation to Restore Peace in Our Neighborhoods" - is a 50-person unit with the mission of bringing down crime levels in particular areas.
Memphis Police said it would "permanently deactivate" the unit.
This is not the first time the Scorpion unit has attracted controversy.
It was launched in October 2021 with a focus on high-impact crimes such as car thefts and gang-related offences.
But some community activists say its focus on hot spots within the city contributes to officers' bias and brutality.
Antonio Romanucci - a lawyer for the family of Mr Nichols - accused the unit of misconduct and racism and called for it to be disbanded.
"They were in unmarked cars, why are they conducting traffic stops?" he told CBS, the BBC's US partner.
"This is a pretextual traffic stop, which, let's call it what it is, it's a racist traffic stop."
The Scorpion programme was touted by Memphis Mayor Jim Strickland in a speech a year ago. He said the city used crime data "to determine where the unit will conduct its enforcement activities within the city".
From October 2021 until January 2022, the unit made 566 arrests, he said. They also seized over $100,000 in cash, 270 vehicles and 253 weapons.
In the wake of Mr Nichols' death, one local man Cornell McKinney told a Memphis-area TV network that he had a tense encounter with the unit on 3 January, just days before the incident involving Mr Nichols.
Mr McKinney alleges that the officers - who were travelling in unmarked vehicles - threatened to "blow his head off", pointed a weapon at his head and accused him of carrying drugs.
He complained to the Memphis Police Department after the incident, but says he has not heard anything back.
One of the officers that arrested Mr Nichols had previously been sued by a man who accused him of beating him when he was a prisoner eight years ago.
Cordarlrius Sledge said that he was attacked by Demetrius Haley, who was a prison guard at the time, and two other officers after he was found with a contraband mobile phone in jail.
"They picked me up and slammed my head into the sink, and I blacked out," he told NBC News on Thursday.
The lawsuit was dismissed in 2018 after a judge found the prisoner had failed to complete the necessary legal paperwork.